Ballintoy Engagement | Causeway Coast
We say it a lot and we'll say it again when couples choose a location that means something to them, magic happens! That's exactly what Suzie and Michael did when they chose Ballintoy for their couples adventure session. Ballintoy was where Michael had proposed on a typical wintery Northern Irish day when the wind was howling and the temperatures were low! Luckily we visited in the run-up to summer and were treated to some incredible skies and sunlight! It was written all over their faces when we visited the exact spot where the proposal took place and we could see the romance rising as they each remembered that special day.
Suzie may look dainty and sweet but she is a serious badass, she tackled the rugged landscape effortlessly( even in heels!!) and Micheal turned on the true gentleman charm, carrying her over the toughest parts to save her feet!
Engagement sessions can be daunting especially when you're not used to getting your photographs taken, these two let go of any nerves, totally embraced the experience and got completely involved in all our crazy requests ( check out the super adorable gif below!)
We are so excited to get to capture their wedding later this month!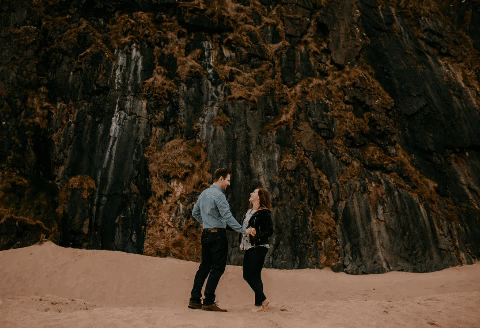 Couple sessions are a great way to celebrate your love, get a feel for how we work and get some rad photos! If you fancy hanging out and having a blast get in touch to book your session!